Hide Checklists or Checklist Items
New Feature Announcement
Global Checklists are currently in BETA and will be available in Issue Checklist for Jira ENTERPRISE once released. Contact our support team if you currently use Issue Checklist for Jira PRO would like to participate in the Beta.
Hide Checklists in an Entire Project
To hide the checklist panel on all issues in a project, use the global settings to disable Issue Checklist for the project.
Hide Checklists in Old Issue View
Due to a Jira limitation, it is not possible to hide the checklist panel on an individual issue that uses Old Issue View.
Hide Checklists in New Issue View
New Issue View can be enabled and disabled on the user's Settings page in Jira.
To hide the checklist panel in New Issue View:
Ensure the Show Checklist Alwaysglobal setting is disabled.

Remove all checklist items (manually or using the editor).

Click on the ... menu and select Hide Checklist.

Hide Completed Checklist Items
Click on the filter icon to filter out the completed items on a checklist so that the only the items remaining to be done are visible.This preference will be preserved across page reloads, but will not impact other issues or other users.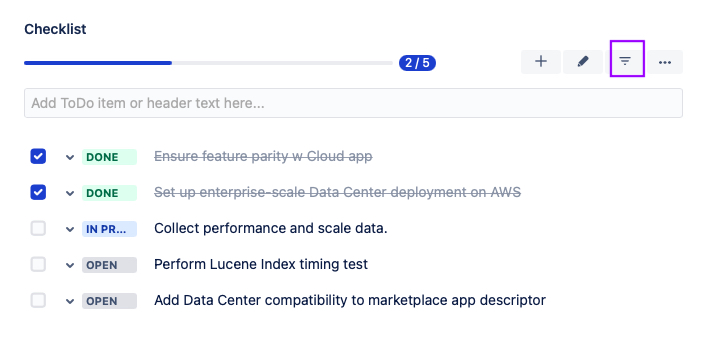 To show the completed items again, click on the filter icon, or click the text that says Show ( x ) completed items.