New Feature Announcement
Global Checklists are currently in BETA and will be available in Issue Checklist for Jira ENTERPRISE once released. Contact our support team if you currently use Issue Checklist for Jira PRO would like to participate in the Beta.
In Checklist for Jira ENTERPRISE , users cannot delete Global Checklists, or items in Global Checklists, from issues. Only Jira Admins can remove Global Checklists from issues by changing the context or deleting the Global Checklist.
Delete Checklist Items
To delete a checklist you can either delete each checklist item using the trash icon.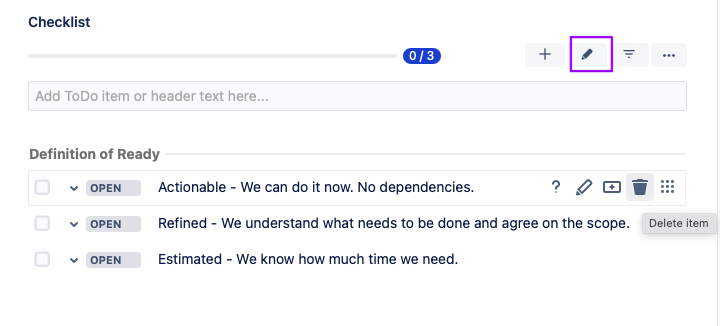 Delete the Entire Checklist
To delete the entire checklist:
Click on the … menu for the Checklist.

Select Delete all items.

Bulk Delete Multiple Checklists Across Multiple Issues
This method is only available for Classic (Company managed) projects.
If you require deletion of multiple checklists or wish to eliminate possible duplicates in multiple issues across projects, these are the steps you should follow:
On the top menu bar, click on Apps and select Manage Apps from the sub-menu

On the left sidebar, right below Issue Checklist you will see the Global Settings option, click on it, find the "Save checklist data to Jira custom fields" option and enable it

Add the Checklist text custom field to your issues by following these instructions

Wait 24 hours for the synchronization of all the issues to be done

The next day, go to the Search Jira Issues screen (the easy way to do this is to click on the Search Field on the top-right side of Jira and then clicking on issues

Once on the search screen, you need to fetch all issues that have non-empty checklists. Use the following JQL on the search field:
"Checklist Text" is NOT EMPTY

On the top-right side of the search screen, seek the three dots menu (besides the Export button) and click on it, then select the Bulk Change All issues option.

You will be taken to the Bulk Operation Screen. On the first step you must select all the issues that have the checklists you want to delete and click on NEXT

On the second step, select the Edit issues option and click on NEXT

On the third step, locate the Checklist Text field and mark the checkbox to indicate that you want to change the field

Delete all the contents (if any) of the Checklist Text field and ensure it is empty. Optionally, you can uncheck the Send email for this change option at the bottom of the screen (so no one gets an email about the change)

In step four, review the changes and click on Confirm
Once the bulk operation is complete, check on the issues to verify that the checklists have been deleted.