Checklist Content YAML (deprecated)
New Feature Announcement
Global Checklists are currently in BETA and will be available in Issue Checklist for Jira ENTERPRISE once released. Contact our support team if you currently use Issue Checklist for Jira PRO would like to participate in the Beta.
Deprecation Notice and Limitations
The Checklist Content YAML field is ignored when multiple checklists are enabled - use Checklist Text instead. When multiple checklists are disabled, Checklist Content YAML stores only items from the default checklist.

The Checklist Text field not only allows the same functionality as Checklist Content YAML, but can also store multiple checklists (when enabled) and uses a more user-friendly format.

Checklist Content YAML field may be removed in the future.

Checklist Content YAML is not supported in Checklist for Jira ENTERPRISE .
Checklist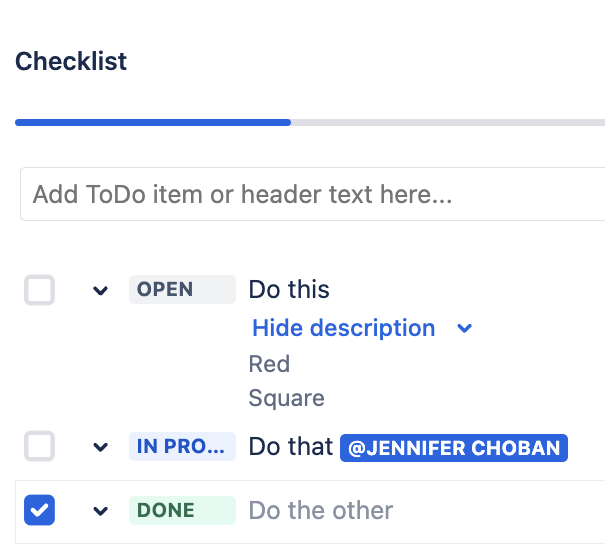 Checklist Text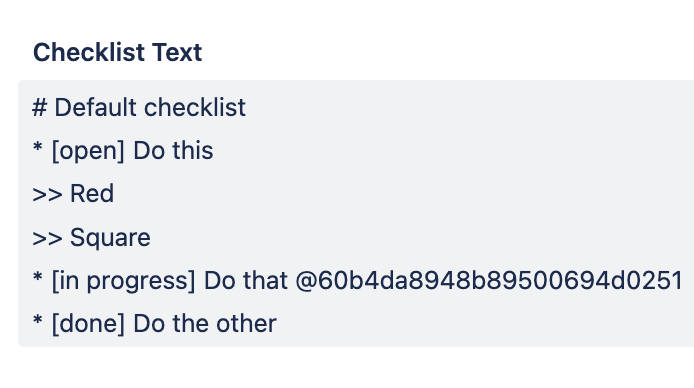 Checklist Content YAML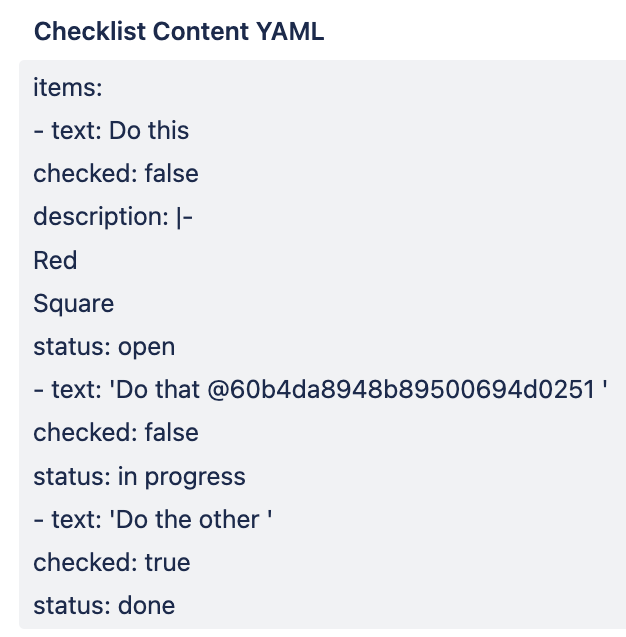 Usage
Can be used to Import/export checklists from Trello, CSV or another Jira instance.

Can be used with advanced JQL to search for specific contents of a checklist.

Can be used when bulk editing to add a checklist to multiple issues.

Allows access to the checklist via the Jira API.

Can be used to modify a checklist when an issue is edited or transitioned.

Records changes to the checklist in the Jira History tab.

Can be used with automation or scripting apps to access and/or modify the checklist.
Copying Checklist in YAML Format
You can copy the checklist in YAML format regardless of whether or not the YAML field is on the screen.
To copy the checklist in YAML format:
Click on More … menu of the checklist.

Select Copy checklist as YAML.

How to Find the Custom Field ID
When using custom fields with automation, scripts, etc. you may need the ID number of the custom field.
To find the ID of the custom field:
Log in as a Jira Administrator.

Go to Jira Settings > Issues > Custom fields.

Search for the indicated custom field.

Click the More menu (…) and select Edit Details.

Copy the URL of the page. The URL will end with the ID number of the custom field.

Custom fields can be duplicated by some errors or rare scenarios. If you are experiencing issues with accessing custom fields, make sure you are referencing the custom field that is currently used by Issue Checklist.